Dover Rowing Club's Maria West-Burrows and Jo Johnston were in action in the double sculls at the British Rowing Offshore Championship held at Exmouth over a 6km course containing six turns. West-Burrows and Johnston are veterans of 3 previous world championships and were aiming to improve on their previous 4th place at the last two British Championships.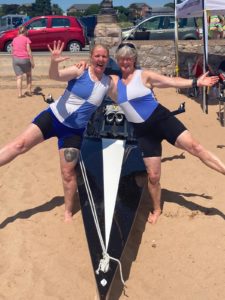 Conditions were a little too calm for the coastal crew, their preference being for rougher sea conditions. A poor start saw the experienced crew trapped behind a queue at the first buoy turn. Chasing the crews ahead through turns two and three, Dover's crew moved past Birmingham and Thames RC crews moving up to 5th. It was clear from turn four that the leading crews had too much advantage so Dover set about securing their 5th place through to the finish.

5th place was sufficient to qualify West-Burrows and Johnston for the World Championship in Portugal in October 2021.

Dual Dover and Eastbourne RC member Tony Burrows secured a surprise 3rd place in an Eastbourne men's double scull with Jon Osborn.