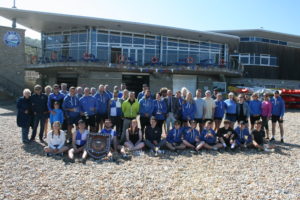 After a successful season for Dover Rowing Club, the club has moved from regatta racing to winter training mode. With reduced water sessions and a focus on winter fitness the desire for competition has seen Dover return to the virtual racing against Bexhill, Eastbourne, Folkestone and Worthing. With the teams in virtual Cape Town the clubs are looking to complete the final legs of the round the world starting with a charge to St Helena, a distance of 3135 km. With rowing, cycling, running, walking and workouts all counting.

From the start it was a race between Dover and Folkestone with the lead flip flopping repeatly. As the race progressed Bexhill, Eastbourne and Worthing joined forces into a 'Super Team' which saw Dover drop briefly to third. A strong push from the club members saw Tom Stothart (263 km) and Chris Hall (233 km) placing 2nd and 3rd in the individual erg / rowing lists. Stothart and Hall (253 km) also featured in the top ten overall performers where they Kevin Ulyatt (254 km), Tony Burrows (233 km) and Nikki Leggatt (200 km). Maria West-Burrows (190 km), Cannelle Ulyatt (162 km) and Marie Cockerell (141 km) were also strong overall contributors. Bo Corby (79 km) was the leading junior member.

At the finish Folkestone and Dover crossed the line the same day, with Folkestone taking the honours, in one of the closest races of the virtual round the world race so far. Next leg St Helena to Cape Verde.

Dover Rowing Club are always keen to welcome new members, check the website for contact details.