The last Coast Amateur Rowing Association race of the season saw Dover's Junior Senior squad race off for the title against Shoreham. Dover's crew of Ben Gomm, Jon Cook, Chris Hall, Tom Stothart were coxed by Nick Bailey as their regular cox, Freya Emmerson. was unavailable. They had complied the most wins and points in the season and qualified for the South Coast Championships. The CARA Championship is decided on overall club results and Shoreham crews ended the season level with Dover.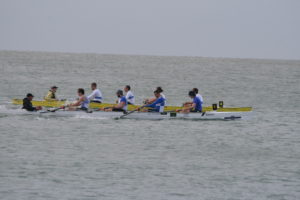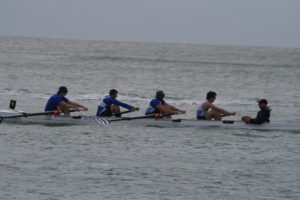 There was apprehension within the Dover crew as three of the squad were still heavy legged after rowing 21 miles on Loch Ness last week. The race started well with the boats neck and neck until Shoreham pulled ahead at around 600m. Through the turn Shoreham had a three lengths lead. Although the return leg had been the Dover crew's strength during the season, the fatigue showed as they were not able to perform their normal charge to the line leaving Shoreham to take the title.

Dover's run this season started at Dover Regatta where Jon Cook had joined his younger club mates to make a run at the Junior Senior competition. With diaries not matching during the season, other club veterans switched into the crew, with Paul Scrivener and Matt Barnett helping to take wins at Deal and Folkestone respectively. Steve Woods helped them gain points at Herne Bay. The strong club spirit was able to drive the crew to the edge of a championship but it wasn't enough on the day.