Dover Rowing Club had a phenomenal regatta at Bexhill securing the Novice and Men's Junior Aggregate competitions. The Novice Men's 4 saw 3 crews for Dover. Matty Tremelling, Ben Gomm, Dom Skeat, Peter Betts, a crew with university rowing experience, coxed by Chris Hall moved into the lead through the first 500 m stretching their lead through the turn taking the win ahead of Sebastion Steele, Matt McArdle, James Hale, Jasper Mallet coxed by Tony Burrows who had to fight through Hasting's crew to take 2nd. Kevin Ulyatt, Adrian Calland, Eddie Briggs, Brendon Ulyatt coxed by Alan Warland (Eastbourne) would come home in 5th place. The Ladies Novice 4 crew of Marie Cockerell, Emily Harvey, Heather Corby, Krista Davis coxed by Burrows added points to the aggregate showing improvement form Folkestone regatta coming in 2nd. Matty Tremelling got a good start in the Novice Sculls reaching the turns in first place leading towards the finish only to be taken on the line leaving him in 2nd place.
The Men's Junior Aggregate saw Hall take the lead in the Men's Junior Sculls after 300 m after a tentative start. Turning first at the buoys Hall held off the chasing field on the run home to secure the win. Gomm and Skeat raced in the Men's Junior Pairs. Making a fast start they moved well ahead of the small field comfortably taking the turn in the lead before moving clear of the 2nd place crew taking the win.
In the Ladies Junior 4's Maria West-Burrows was joined by Novices Cannelle Ulyatt, Emily Harvey, Krista Davis coxed by Vanessa from Folkestone, the crew started well and were in the fight for a high finish on the outward leg, through the turn the more experienced crews pulled away leaving Dover to come home 5th.
The Men's J16 saw Bo Corby, Sebastian Steele, Jasper Mallet, James Hale coxed by Burrows neck and neck with Shoreham's crew on the 1 km straight race. It was only in the last 100 m that Shoreham took the advantage leaving Dover to take 2nd.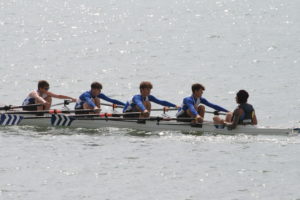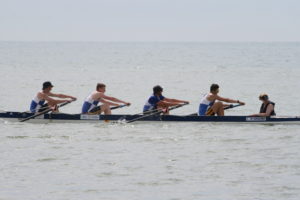 In the Men's Junior Senior 4's Hall was joined by Novices Gomm, Skeat, Betts coxed by Vanessa from Folkestone. They got away well moving to the head of the race tracking Herne Bay's crew and dropping a length behind coming to the turn. The run for home saw Dover's crew unable to match Herne Bay taking 2nd at the line.
Hall and Tremelling competed in the Senior Pairs after a steady start the crew dropped towards the back of the field finishing in 11th place.