Dover Rowing Club were in action at Shoreham Regatta at the weekend. Dover's Junior Men's Four of Sebastian Steele, Max Arkell, James Hale, Jasper Mallet coxed by Freya Emmerson got a good start and initially looked to be in a battle with Shoreham. The crew featuring Arkell as a sub suddenly clicked and rapidly pulled clear. They pulled fifteen strokes after the buoy turn before the next crew had turned and the margin of victory was wide at the finish. Mallet and Hale teamed up in the Junior Pairs with similar effect charging out to a lead and pushing on for a clear victory. Mallet had a challenging Novice Sculls race with swimmers and paddle boards on the course, Arkell in his first sculls race was on the outside. Mallet turned second and was unable to catch Herne Bay on the run home. Arkell crossed the line in seventh.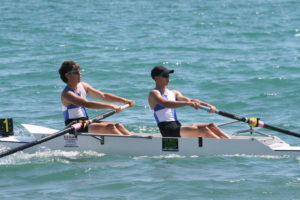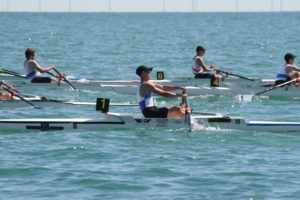 The Men's Junior Sculls had Tom Stothart and Chris Hall competing. A good start for Stothart saw him move into second place trying to keep with Herne Bay. Stothart would secure second place at the line, with Hall in fourth place. The Junior Crews would secure the Junior Aggregate Trophy with these wins and a second place. Hall and Stothart would be fifth in the Men's Senior Pairs.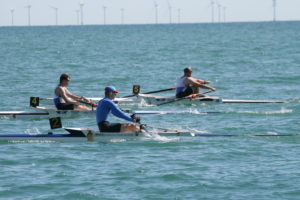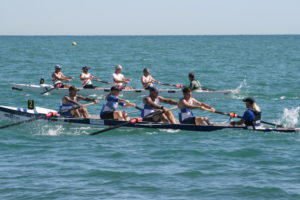 In the Men's Novice Fours Kevin Ulyatt, Brendon Ulyatt, Jamie Smith, Jason Cunningham coxed by Tony Burrows had an excellent start grabbing the initial lead. Cunningham stroking for the crew after 2 weeks rowing experience was outstanding as the crew turned in third place. Dover's crew gained good separation from the next boat to come home in third.
In the Masters 40+ K Ulyatt, Maria West-Burrows, Smith, Jon Cook coxed by Jo Johnston were left a little at the start. Pursuing the leading crews Johnston's crew turned in fourth, the position they would hold to the line.
Men's Junior / Senior Four had Ben Gomm, Cook, Hall, Stothart coxed by Emmerson immediately in a fight for second off the line. Heading to the turn a combination of factors dropped the crew to fourth with the distance lost too great to make up on the way home. Gomm, Hall, Stothart and Arkell joined forces for the Men's Senior Fours with Hattie Aubrey coxing. The crew were fifth out of the turn and were able to maintain this position at the line.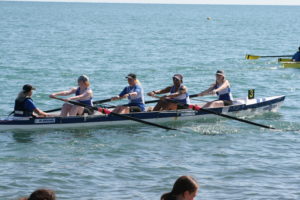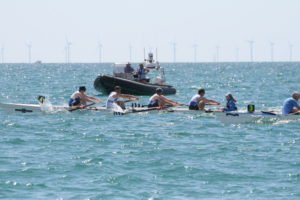 Junior Ladies crew of Emily Harvey, Canelle Ulyatt, West-Burrows, Emmerson coxed by Johnston found themselves battling for points. They would eventually come home in sixth. Harvey and C Ulyatt teamed up with A Bell and C Clover from Folkestone RC to compete in the Woman's Novice Fours coxed by Emmerson they would finish seventh.