Dover Rowing Club took a small youthful group to Eastbourne Regatta this weekend. The regatta saw Nathan Peach record his first win with an outstanding performance in the Men's Novice Sculls. Peach dominated his heat establishing an early lead and maintaining a comfortable margin to finish first. In the final the conditions had become more challenging, Peach took the early advantage leading after 300m. Working hard he maintained a good line to the buoy turns coming out ahead of the field before working inshore for better water. Herne Bay's Marques in lane one had edged ahead as Peach straightened and began the sprint for the line with 400m to go. Gradually Peach overhauled his opponent pushing himself to a lengths lead before a late charge from Marques narrowed Peach's winning margin to a half a boat. Peach also took 3rd place in a composite crew with Worthing and Eastbourne rowers in the Novice 4's.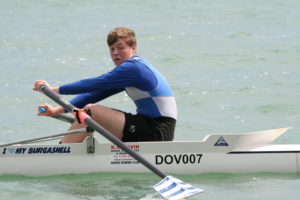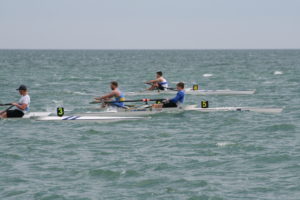 The J16 Ladies Quad crew of Chantel Mayes, Emma Spanton, Emma Oliver, SJ Bamfield, coxed by Jo Johnston got off to a good start and were once again battling Herne Bay for first place. With Herne Bay moving well the Dover crew dropped into the pursuit trying to close the gap, but despite their best efforts they had to settle for 2nd at the line.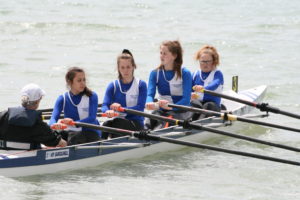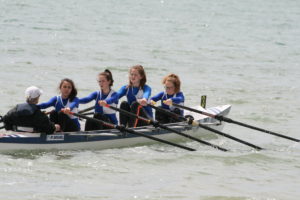 The Double Sculls saw Johnston and Rebecca Stothart facing a field including two strong Shoreham crews. The Dover crew struggled a little with their line on the outbound leg before moving inshore on the return run. Slotting into 3rd place they realised Shoreham's 2nd place crew were struggling. The Dover crew gave their all closing rapidly but ran out of water at the line. Johnston competed in the Open Ladies Sculls race acquitting herself well against her much younger opponents, gradually moving through the field to take 4th place.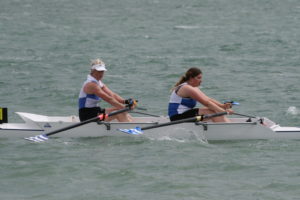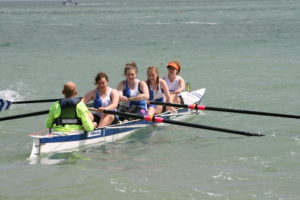 Novice Ladies 4's had Maisy Saunders (Shoreham), Rosie Thorp, Morgan Evans, Stothart coxed by Tony Burrows. Dover's crew found themselves in midfield of the start, slowly moving up to 4th place after the turn. They were unable to pull in the 3rd placed crew on the run home leaving them with a good points finish.