Dover Rowing Club had two rowers involved in the British Offshore Championships held at Exmouth, Devon. Experienced offshore rower Maria West-Burrows was in a new partnership with Saffron Walmsley-Preece in the women's doubles event.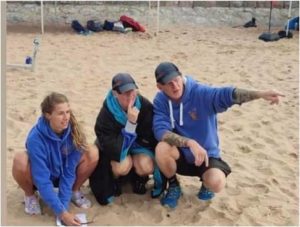 The offshores differ from Dover's normal CARA competitions which hug the coastline over 2 km course. The race featured a 6 km course starting from the beach and moving directly out to sea with 9 turns to negotiate.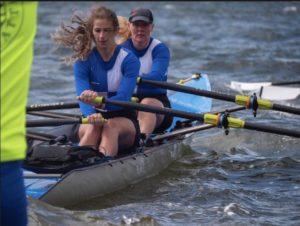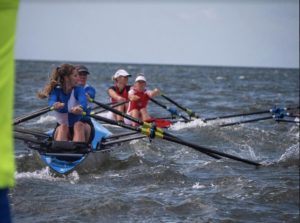 The Dover crew were in lane 3 and were third off the start. Coming to the crucial first turn Dover had the racing line but were hit by Carrick's crew who came in too shallow and hit the buoy stopping both crews. As the boats separated there was frustration as other crews passed them. Moving to the second buoy Dover avoided a second crash as Carrick again steered into another crew. Now clear, the two rowers started hunting down the crews ahead of them, overhauling Jersey between turns 3 and 4. Through turns 5 to 7 the rough conditions saw a lot of pulling on the rower's left side to maintain their course as they battled the wind and waves. This made it challenging to close on the leading crews. As Dover's crew turned for the run home, they were unable to improve on the fifth place, finishing in a time of 41 minutes 2.1 seconds
Better luck at the first turn would have delivered a higher finish and West-Burrows and Walmsley-Preece can console themselves that they made the qualifying standard for the World Offshore Championship should they wish to enter.