Dover's Matilda 'Jo' Johnston and Maria West-Burrows were competing in club colours for Great Britain at the World Rowing Coastal Championships held in Praia da Torre, Oeiras, Portugal. Racing in wider FISA boats Dover's crew designated GBR3 faced heats to qualify for the finals.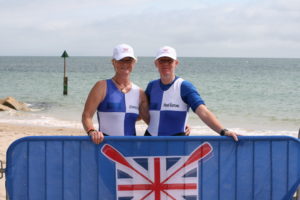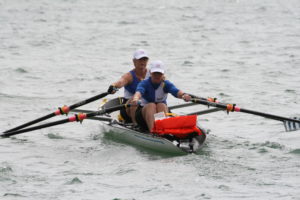 The heat started on the water in a mass start which saw the Dover crew a little swamped by the field making it difficult to progress through the field. Turning at the back of the field Dover's ladies were under pressure as they sat outside the A Final qualifying. The temperature on the course, tidal flows and difficulty sighting the buoy turns added to the difficulty on the day. At the third turn Dover were two places off the A Final qualifying but had little opportunity to pass on the latter stages of the race. Easing off, accepting their fate, they rowed home in 12th, progressing to the B final.

The B final saw the competitor's start from the beach with Dover's crew getting a fantastic start and pulling out to a couple of length lead as they headed to the first turn of the 4km course. They would be passed by the Caminhense (Portugal) crew prior to the turn after a tight 1km leg. On the 1.1km second leg Dover were unable hold on to the younger Portuguese crew as the westerly wind made this leg more challenging. The Amstel (Holland) crew were slowly gaining and, after the second turn, would close to be directly behind before colliding with the Dover double. This was the second collision for the Dutch and both resulted in them gaining a place on their opponents. Dover were now chasing hard but had lost several lengths after the collision and had to work hard to close down their opponents. After the last turn it was a race to the beach with Dover just behind. It came down to the run up the beach to the finish line with Maria-West-Borrows coming in just behind her Dutch opponent. Johnston and West-Burrows came home in 25 mins 20 seconds and are now ranked 23rd in the world.