Dover Rowing Club sent a depleted squad to the rearranged Worthing Town Regatta at the weekend.
First on the water was Lizzie Foley who volunteered to help Eastbourne RC by coxing their crew featuring a new rower. Foley used her experience to assist the crew as they raced coming home 10th.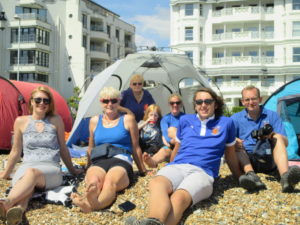 Maria West-Burrows and Jo Johnston were in competition in the Senior Ladies Pairs. With the water at its roughest point of the day, in a few strokes one of Worthing's crews capsized. The remaining boats fought on as they headed down the course. By the buoy turns it was clear that Worthing's remaining crew and a Shoreham crew would battle for victory whilst the Dover boat would be fighting for third. With the Dover boat in the rougher water on the return leg the third placed crew moved away leaving them to come home in fourth.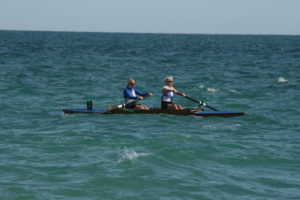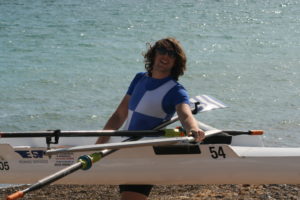 The Men's Junior Sculls race saw Chris Hall in a competitive field. With conditions rough at the start line one of his competitors was fortunate to avoid a capsize just after the 'Go!'. Hall found himself in a battle with the two Bexhill scullers offering a repeat of the first regatta of the season. With clear daylight developing between the leading Bexhill Sculler as they headed to the turn Hall tried to hold onto the second placed boat. The turns went Bexhill's way and both scullers broke clear of Hall who settled into third place as he worked his way up the course. With inshore conditions better than the middle course water Hall watched warily as the Shoreham sculler made ground on him egged on by the commentator. He upped his stroke rate but Hall responded, confident that he was in control of the third place only to see the Shoreham Sculler catch a crab and capsize with less than 400m to go allowing Hall to row controlled to the finish.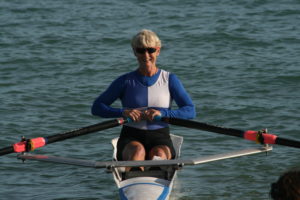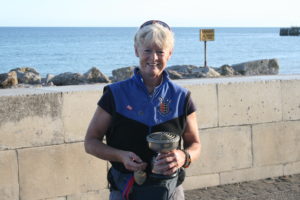 Jo Johnston competed in the Ladies Open Sculls in calmer conditions. Johnston got off to the better start and found herself leading the Southsea sculler. Forming a comfortable lead on the outward leg Johnston exended her lead to several lengths as she remained long and strong all the way back to the finish to claim her first win of the season.
With only the South Coast Championships left in the coastal season Dover Rowing Club are looking for new and returning members to bolster their squads competing in under 14's through to over 50 categories for the 2018 season, please see the club's website for contact details.