The weekend saw Dover Rowers in action at the British Rowing Indoor Championships held at the Lee Valley VeloPark. This competition gives rowers the opportunity to compete against GB and international rowers and this year also saw Sir Bradley Wiggins' competitive rowing debut.
Nick Bailey and Chris Price competed in Master categories. Bailey, competing in the Masters 60-64 years 2km event, got off to a strong start covering the first 500m in 1 min 53.2 sec. He slowed through the middle 1000m, averaging 1 min 56.2 sec, before finishing strongly with a final 500m at 1 min 52.9 sec. Bailey's overall times saw him home in 11th place in a time of 7 min 38.6 sec.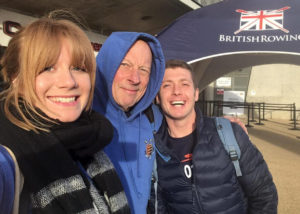 Lizzie Foley there to support competitors Nick Bailey and Chris Price at BRIC 2017
Price entered in the Masters 30-39, light weight, 2 km class. He got off to a slow start posting a first 500m of 1 min 52.9 sec, improved steadily through the next 1000m and finished strongly, with a last 500m time of 1 min 48.1 sec. Price finished in 10th place in a time of 7 min 25.2 seconds.
Dover's student Rowers Tom Stothart and Chris Hall competed in the recent British Universities and Colleges Sport indoor rowing championships. Stothart has been has been improving his 2 km times since arriving at Reading University and was aiming to break the sub 7 min target. He was heartbreakingly close, posting a time of 7 min 00.8 sec, a personal best.
Hall was a late call up for the University of Southampton squad. He improved on his previous best time, completing the 2 km in 6 min 48.2 sec, before helping his team win the relay event the same day.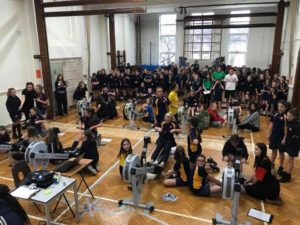 Dover rowers Tony Burrows, Chrissy Purvis and Paul Scrivener assisted Dover Grammar School for Girls with their annual indoor rowing event which saw Rebecca Stothart help her team take their year groups relay title.