The first Dover Rowing Club crews completed their 5th virtual race, rowing in crews of 4 from Papua New Guinea to Christmas Island, a distance of 4665 km. Unlike the previous races in which the whole club worked together to row, run, walk and cycle (for which only half the distance counts towards the total) across the Atlantic and Pacific oceans, the fifth leg was a challenging effort for the small crew. Dover rowers were joined in their endeavours by three Eastbourne rowers.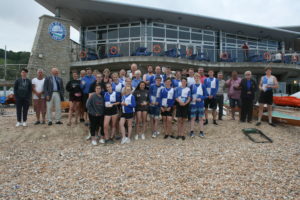 37 Coast Amateur Rowing Association crews set off for Christmas Island with Dover A Veteran 40+ crew of Tony Burrows, David Newman, Jon Osborn (ERC) and Colin Guppy (ERC) moving into third overall as the first two crews pulled clear of the pack. The all-female Dover B Veteran 40+ of Maria West-Burrows, Jo Johnston, Chrissy Purvis and Marie Cockerell were pushing hard to catch the Dover A crew, and Dover Mens Junior A squad of Adrian Callard, Matt Barnett, Cameron Mackintosh and Jon Cook were close behind. Other crews were battling out for leads within their divisions.

At the half way point the Burrows crew was holding onto third overall as Shoreham's Senior men began to make their move whilst Dover's Juniors, Shoreham Vets and Folkestone lead crews were also close by. With Shoreham pulling clear by mid-January the Burrows crew were being pushed hard. As the 4000 km mark was passed, Callard's crew started to close and the crews moved into the last 600 km within a few days of each other. With Newman leading ergo distance (850 km) and sitting 2nd overall (1721 km) and Osborn leading on the bike (1338km) the Burrow's crew held off the Callard crew, though Callard build up a massive individual overall total of 2835km. The Dover Vet A finished 4th and Mens Junior A came home in 5th two days later, taking 1st place in the Men's Junior and Junior Senior division.

The Dover B Veteran crew lie in 8th and 2nd amongst all female crews with West-Burrows about to post the second highest individual total. Of Dover's other crews the Women's Novice crew of Lorna Florence Clay, Mia Donn, Morgan Evans and Beth Rose Cornford (ERC) are holding onto first place in their division. Ella and Kate Day, Jen Jordan and Saffron Walmsley-Preece are 3rd in the Womans Junior race. Men's Junior Senior crew of Steve Woods, Tom Stothart, Chris Price and Chris Hall are in 3rd . Jacky Silk, Nick Bailey, Julie Hall and Emily Harvey are 7th in the Vet 40's race.

Dover Rowing Club would normally gather at the start of each year to remember the passing of present and former members, family and friends of the club. Following this most difficult of years, the club wishes to pay tribute to those that have been lost.