Dover Rowing Club were in action in the Hastings and Eastbourne double header regattas at the weekend.
Cameron Mackintosh had a good couple of days with in the Men's Sculls race. A good race along the shore line in Hastings turning second and a strong return leg secured second place. At Eastbourne a poor turn left Mackintosh third and chasing for second. In the last 250m he kicked hard and closed rapidly on second place, only missing out at the line by a canvas.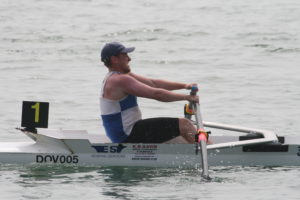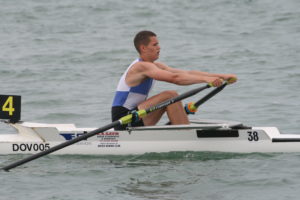 Jasper Mallet continues to improve after progressing to Junior Sculler level. At Hastings, Mallet found himself in second through the turn but struggled to hold off the Eastbourne sculler who rowed through him by the finish. At Eastbourne, Mallet aimed to improve on third and went out hard. Turning second, he was able to push well ahead of the Eastbourne sculler and was able to maintain the second place all the way to the line.
There were two Dover crews in the Men's J16 Quad Sculls, Josh Grassby, Bo Corby, Ben Fagg, Beau Everington-Nee coxed by Matt Barnett competed against the younger crew of Henry Cox, Tom Gold, Sonny Hart, Artie Everington-Nee coxed by Maria West-Burrows. A hard push from the Barnett crew saw them in a straight fight for first place with Herne Bay. Dover's crew crossed second and the younger teammates would come in sixth.
The J14 Quad Sculls had Cox, Hart, Sara Scrivens, A Everington-Nee coxed by Maria West-Burrows in the 1km race. With three of the crews on a quick turn around the crew struggled to hold on to the leader as they chased down the course, coming home third.
Junior Ladies Fours saw two crews at Hastings Marie Cockerill, Emmerline McArdle, West-Burrows, Ella Day coxed by Tony Burrows facing Janice Bradford, Nikki Leggatt, Freya Emmerson, Emily Harvey coxed Will Coleman. The crews were battling each other coming to the turns with the Burrows crew coming away ahead. Both crews were fighting for points with Burrows crew coming home sixth and Coleman's crew finishing eighth. Only the Burrows crew raced at Eastbourne with a renewed determination. A good start and a hard drive to the turn put the crew in the top four as they pushed through the last quarter, going through Deal and moving neck and neck for second, losing out by a foot at the line.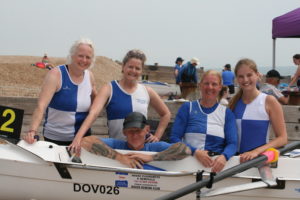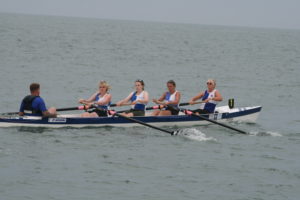 The Novice Ladies Four of Amanda Punton, Kaz Morrison, Janice Bradford, Leggatt coxed by Burrows had a good row coming in eighth. At Eastbourne, Bradford, Leggatt, Lily Stafford-Edge, Harvey coxed by Burrows got a good start and were in the mix at the turn. Coming home they were fighting for second with Eastbourne just missing out at the line.
Men's Junior Senior Fours Mackintosh, Mallet, James Hale, Coleman coxed by Emmerson had a disappointing run out to the turn but regained a little of their normal pace coming home fifth. At Eastbourne the crew were coxed by Jason Cunningham. They had a better start and were in contention throughout the race coming home second. The same crew competed in the Men's Senior Four finishing fourth in Hastings and improving to third at Eastbourne.
Senior Men's Pair Hale and Mallet, were just off the top crews coming home fifth at both regattas.
Men's Junior Four had Mackintosh, Duncan Taylor, Barnett, Brendon Ulyatt coxed by Burrows fighting for points coming out of the turns, finishing in eighth. Ulyatt was fifth rowing with Eastbourne at their home regatta.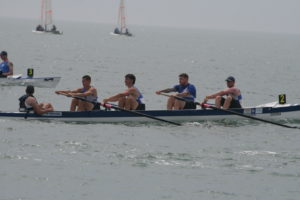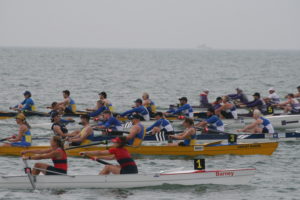 Masters 40 plus Leggatt, Barnett, West-Burrows, Taylor coxed by Burrows had a good race to the buoys. They were in the mix for points and finished fourth. S Dowling, Cunningham, Bradford, Leggatt coxed by Coleman had a similar race at Eastbourne, also finishing fourth.
Punton, Morrison, West-Burrows, Taylor coxed by Cunningham were sixth in the Masters 50 plus. Cockerell and McArdle entered the woman's 40 plus in a composite crew fourth at Hastings. Cockerell, Ulyatt, Coleman, West-Burrows coxed by Hale raced against Mackintosh, Cunningham, Bradford, Harvey coxed by Mallet would finish fourth and fifth respectively in the Mixed Fours Open.