Over 40 of Dover Rowing Club's members turned out to support the end of season awards night. It was a busy night for Kevin Ulyatt who received 3 prices on the evening; the prestigious Rowers Rower, which is voted for the club's members, the committee presented Club Person of the Year and the Captain's Prize. Kevin is in his first season with DRC and had been active competitor through the season whilst being willing to jump in with any crew during training. Off the water he has helped with repairs and has refreshed the clubs supply of trestles.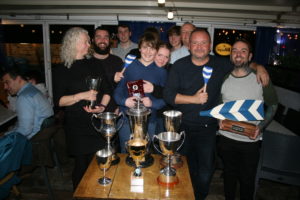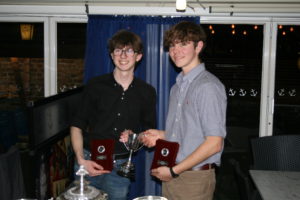 The Most Improved Novice or Junior Men's Rower was shared between crewmates James Hale, Sebastian Steele and Jasper Mallet who raced and won in both the J16 and Novice Men Coast Amateur Rowing Association titles this season. The boys would go on to narrowly miss out on the Novice title at the South Coast Championship where they came home second rowing with Sam Pile. Marie Cockerell took the Most Improved Ladies Novice / Junior award for her performances in Novice and by rowing up a grade with Junior crews this year.
Tom Stothart took the Coxswain of the Year award for his work supporting new rowers and crews during training.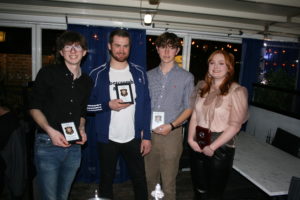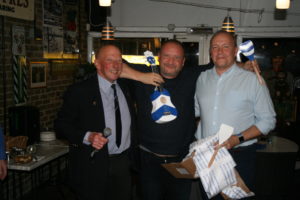 A group of fun awards were also issued Best Christmas Jumper – Heather Corby, The Tiny Clooney Award – Neil Scrivener, The Best Looking from Behind Award – Brendon Ulyatt and the Laurel and Hardy Award – Laine and Damion Napier.
A special thanks to Maria West-Burrows for organising the event and club member Chris Wong, Damion and Laine Napier better known as The Ratzkins for providing the live music for the evening.