Dover Rowing Club came home in fourth place in the virtual race from Panama to Hawaii covering 8099km, the third leg of their virtual rowing race competing against seven other coastal rowing clubs. It was a massive team effort with 38 club members contributing via ergo (rowing machine), by foot, bike and workouts. The bigger membership clubs, Shoreham and Deal would quickly push into the lead whilst Dover tried to stay with Herne Bay in a battle for third as they pulled away from Folkestone, Bexhill, Worthing and Dartmouth. With returns to work impacting Dover's chase, they would eventually finish a few days behind third place Herne Bay.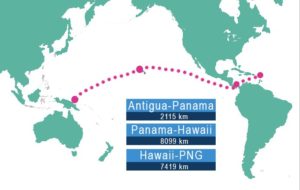 There was a fast start from Maria West-Burrows that saw her enter the top ten overall competitors in the first week with big rowing scores and long walks and it was a late surge from West-Burrows that would push Dover over the finishing line and put herself back into the individual top ten finish with 614 km contribution. Other leaders in the Ladies Division were Jo Johnston and Heather Corby working across the four disciplines, Chrissy Purvis on the bike, Julie Hall on foot and Saffron Walmsley-Preece on workouts.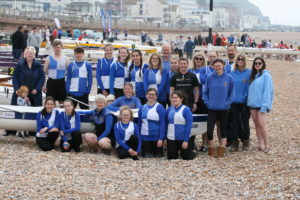 DRC Hasting's Regatta 2019
Dover's Junior section made a massive effort to drive the club forward with Emma Oliver leading the workouts category overall and Bo Corby leading the Juniors for distance with 157km, and an impressive total from young coxswain Scarlett Durnham-Burrows contributing 95km to the cause. Contributions from Ella Day, Emma Spanton, Channy Mayes, Izzy Godden, Hannah Power, Jasper Mallet, Morgan Evans, Safia Corby and SJ Bamfield all helped push Dover onwards.
Dover's heaviest hitters would come from the Men's Division with sport omnivore Adrian Callard eating up large chunks of distance recording by bike 200km, foot 45km and ergo 100km in separate single day hits leaving him the overall distance leader for the event with 1418km. David Newman won the tortoise and hare race for the ergo crown after seeing Callard close to within 2 km by pulling a 100km row. Newman had built a massive lead with daily morning rows that would see him finish with 459km, rating him third on the ergo overall and sixth in the individual event with 744km. Cameron Mackintosh pushed into the top ten for running when the first teams crossed the line, Tom Stothart put in big ergo scores whilst Tony Burrows on foot and Jon Cook through workouts ticked off the kilometres, with Alfie Gardner and Matt Barnett riding to land big distances for Dover.
There were valuable contributions from Jacky Silk, Nick Bailey, Paul Scrivener, Jen Jordan, Jon Osborn, Kate Day, Karen Ponsford, Marie Cockerell, Lorna Florence Clay, Steve Woods, Chris Hall, Chris Price.
Dover now look to the virtual Hawaii to Papua New Guinea leg, a further 7419km, and the hope that they can soon return to the water.
One Day Warriors – Single Day Total
Single
1st
Distance
2nd
3rd
Men's
 
 
 
 
ergo
Adrian Callard
100593 metres
David Newman
Jon Osborn
walk/run
Adrian Callard
45000 metres
Tony Burrows
Chris Hall
cycle
Adrian Callard
200430 metres
Alfie Gardner
Jon Osborn
workout
Bo Corby
120 minutes
David Newman
Adrian Callard
Woman's
 
 
 
 
ergo
Maria West-Burrows
20000 metres
Jo Johnston
Heather Corby
walk/run
Julie Hall
28230 metres
Maria West-Burrows
Morgan Evans
cycle
Heather Corby
77200 metres
Jo Johnston
Chrissy Purvis
workout
Saffron Walmsley-Preece
130 minutes
Heather and Safia Corby
Marie Cockerell
 
 
 
 
 
Full Course Fighters – Whole Race Total
Combine
1st
Distance
2nd
3rd
Men's
 
 
 
 
ergo
David Newman
459359 metres
Adrian Callard
Tom Stothart
walk/run
Adrian Callard
690100 metres
Tony Burrows
David Newman
cycle
Adrian Callard
600320 metres
Alfie Gardner
Matt Barnett
workout
Jon Cook
290 minutes
Adrian Callard
Bo Corby
Woman's
 
 
 
 
ergo
Maria West-Burrows
124006 metres
Jo Johnston 
Heather Corby
walk/run
Maria West-Burrows
456260 metres
Julie Hall
Heather Corby
cycle
Heather Corby
445300 metres
Chrissy Purvis
Jo Johnston
workout
Emma Oliver
1920 minutes
Saffron Walmsley-Preece
Jo Johnston