Dover Rowing Club were in action at Eastbourne Regatta on Saturday. The event was shortened due to heavy winds leaving some crews without a race.
In the Junior Men's Pairs race James Hale and Jasper Mallet got a great start and pulled clear of the field. A clean turn saw the Dover boys leap out to a greater lead with the winning margin being officially classed as 'easy'.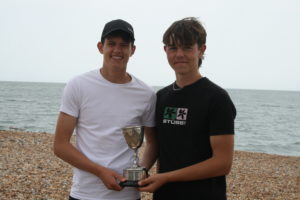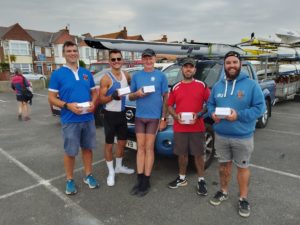 The Men's Novice Fours saw Max Jerden, Eddie Briggs, Kevin and Brendon Ulyatt coxed by Tony Burrows compete in a large field. A good start saw the Dover crew in the fight for the lead on the outward leg. Settling into second place at the turn, they had to fight off the other crews on the return leg to confirm the runners up spot.
Mallet competed in his first Novice Sculls race after working hard in training to make himself competitive. He worked his way through the field after a solid start and moved into the leading group at the turn. Showing confidence in the challenging conditions, Mallet was able to secure an excellent third place.
In another big field, Dover's Junior Ladies Four crew of Canelle Ulyatt, Emma Sawkins, Nikki Leggett, Maria West-Burrows coxed by John Cox dealt with the deteriorating conditions very well. Dover's crew held their own through the turns moving up to fourth. Pushing hard the Dover Ladies maintained fourth place as they reached the line.
The Master 40+ saw K Ulyatt, Briggs, West-Burrows and Leggett coxed by Felicity Ulyatt up against crews featuring Senior category rowers. Dover's crew performed well bringing their boat home in fourth.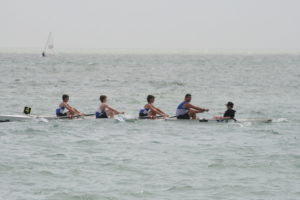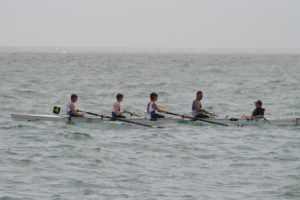 The Men's Senior race saw a mix of Junior and Novice rowers competing for Dover. The crew Hale, Sebastian Steele, Finn Cockell, Briggs coxed by F Ulyatt took a steady approach to the conditions in what was the penultimate race due to the strengthening winds. Taking fourth in their first run at that level.
Jo Johnston was Dover's sole entry in the Ladies Sculls. She was competitive in the early stages. Gradually losing connection with the leading crews after the turn, Jo would push on to finish sixth.