Dover Rowing Club were in action in the rain and rough water at Herne Bay regatta at the weekend.
The Novice Womens Four saw two crews competing. Janice Bradford, Nikki Leggatt, Holly Hannington, Emily Harvey coxed by Will Coleman raced against Amanda Punton, Kaz Morrison, Izzy Balwin. Canelle Ulyatt coxed by Freya Emmerson. The Coleman crew got the better start seeing them in a three way battle for the lead with Southsea and Herne Bay. Through the turns Coleman's crew was in second place. They secured second place at the line with Emmerson's crew coming in eighth.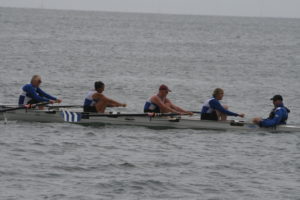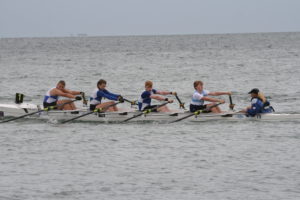 The J14 Quad race had Henry Cox, Ella Cook, Sonny Hart and Southsea's T Stearne coxed by Maria West-Burrows. In the straight 1000m race the young Dover crew got a slower start and had to move through the field. Moving into third they found the Herne Bay crew moving across their bow. Good coxing avoided a collision as the faster moving Dover crew came inside and moved through Herne Bay into second. Dover's crew could now no longer catch the leading crew taking second place at the line. The J16 Quad featured the Dover J14 contingent with Tom Gold making the crew up. Their race didn't go to plan with one of the young rowers getting injured leaving the crew to come home sixth.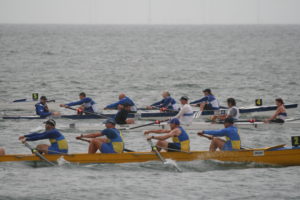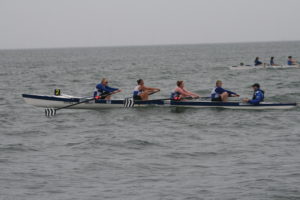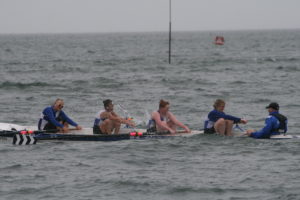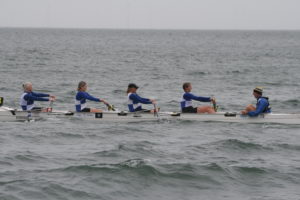 In the Open Masters 40+ West-Burrows, Marie Cockerell, Nick Bailey, Jon Cook were coxed by Tony Burrows. The veterans got a good start and were pushing the leading crews. Out of the turns the crew were in third which they held at the line.
The Woman's Junior Four had heats to qualify for the final. Dover had two crews and in heat one Emmerson, Leggatt, Hannington, Harvey coxed by Coleman rowed well to qualify for the final. In heat two Cockerell, Emmaline McArdle, West-Burrows, Ella Day coxed by Burrows eased through to the final in third place. The final had rougher conditions with the Burrows crew in the more difficult outer lane. Burrows moved in shore after the turns but was unable to improve beyond fifth. Coleman's crew, with Hannington replaced by Bradford due to injury, come home ninth.
The Men's Senior Four had Cook, Colman, Chris Hall, Tom Stothart coxed by Emmerson battling the fastest crews on the coast. A good start saw the crew in contention on the outward leg but they found the going tough on the return leg coming home in fifth.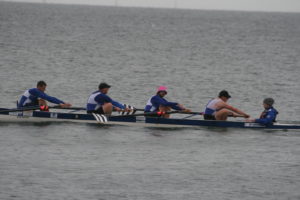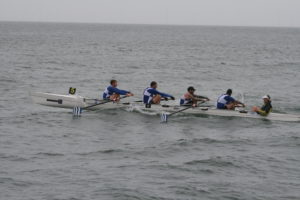 Stothart competed in Senior Sculls where he started well but soon found himself rowing for points coming home sixth.
The Men's Junior Four Mike Simmons, Duncan Taylor, Kevin Ulyatt, Brendon Ulyatt with a cox provided by Folkestone, had a great start but were slowly overhauled by the other crews as the race progressed. Dover's crew would narrowly miss out on points coming home seventh.