Dover rowers Jo Johnston and Maria West-Burrows represented club and country, as GBR04, by competing in the semi-final heats of the Woman's Double Sculls division World Rowing Coastal Championships held at Thonon-les-Bains on Lake Geneva on Friday. By qualifying for, and competing in, the World Championships Johnston and West-Burrows are hoping to inspire others to take up sport or new challenges regardless of age.
Maria showing off her accreditation and Jo and Maria signing autographs.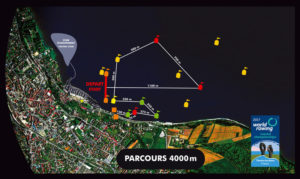 The course map for the World Rowing Coastal Championships displaying the 4 km route.
With an average age of over 50, Johnston and West-Burrows gave 20 years to most of their opponents, and rowed in conditions far calmer than they prefer. The initial 1100 metres leading to the first turn on the 4 km course saw a mass charge with Dover's crew fighting to maintain a qualifying position. The run to the second turn saw the field spread out with Dover towards the back of qualifying and being pushed hard. By the fourth turn Dover had slipped out of the A Final qualifying position but were maintaining a qualifying place for the B Final. Their place assured Johnston and West-Burrows sought to conserve energy for the next race coming home behind their fellow GB crews from Welsh Sea RA in a time of 22:07.86.
Jo and Maria in their club colours.
Saturday saw Johnston and West-Burrows line up for the B final along with other GB and Irish crews. Racing was tight to the first buoy with Dover in the leading group of four. The battle continued through the next three buoys with GBR02 the eventual winners and IRL01 easing ahead leaving Dover to battle GBR05 for third place. It came down to the penultimate turn where Dover dropped a length behind GBR05 to miss out on 3rd place by 3.08 seconds, finishing in a time of 21:24.82. Johnston and West-Burrows were the highest placed English crew in their event and had they been in the second semi-final their Saturday race time would have been good enough to qualify for the A Final. They finished the competition ranked 24th in the World in Coastal Doubles.