Dover Rowing Club completed the penultimate leg of the round the world virtual race against Folkestone and the 'Super Club' combination of Bexhill, Eastbourne and Worthing. The St Helena to Cape Verde leg consisted of 4087 km that could be rowed, run, cycled or walked.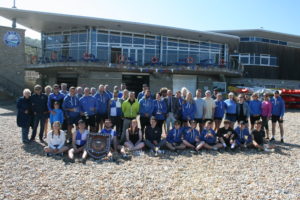 The race started with all three teams vying for the lead with the Super Club being driven on by the outstanding performance of Jim Dillon pushing ahead just after the mid point where only 11 km split the three teams. Dover's lead scorers Maria West-Burrows, Chris Hall, Kevin Ulyatt and Tony Burrows, all of whom featured in the top 10 overall perforners at race end, helped push Dover out in front by 30 km.
Hall and Tom Stothart contributed large rowing scores finishing 3rd and 4th in that category. Strong running performances by Max Jerden, Maisie Ludwig and Nick Bailey saw all three finish in the top 10 for running distances.
As the race entered the last 1000 km Dover were still holding off Folkestone with big overall contributions from Brendon and Cannelle Ulyatt, Chrissy Purvis, David Newman, Nikki Leggatt, Marie Cockerell, Jo Johnston and top Junior Bo Corby who had racked up an outstanding 187 km. As the teams dashed for the line, Dover had competing priorities with the end of season's Presentaion Dinner opening the door for Folkestone to take the win whilst Dover partied. Dover would finish the next morning.
In other news Tony Burrows has won the British Rowing Awards regional volunteer of the year and progresses to the shortlist for the National award.