Dover Rowing Club had 3 competitors at the World Rowing Coastal Championships held in Saundersfoot in Wales. Great British crews were competing against 22 other nations in the event racing in FISA sculls boats.
Jo Johnston and Maria West-Burrows competed in the Ladies Doubles Sculls event semi-final on day 2. Conditions were calm, with light winds handing the advantage to physically stronger crews as boat handling skills would be less of a factor. Johnston and West-Burrows were in heat 2 and found the race to the first turn challenging. They turned towards the back of the field, falling to 14th at the second turn, but were unable to improve through the 3rd turn and the slalom section to the finishing line. Johnston and West-Burrows finished the 4 km course in a time of 23 mins 30.2 seconds, qualifying for the B Final.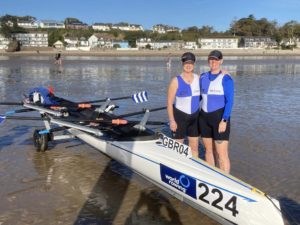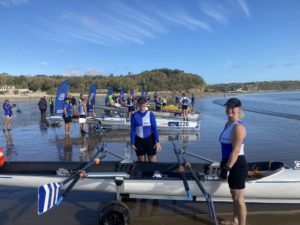 The rough and windy conditions of the B Final were more to their liking as a chaotic start for all boats saw Dover's crew find their line and head to the first turn. With winds gusting to 40mph hitting the boat at 45 degrees towards turn one, Johnston and West-Burrows turned in 4th whilst being hit by large waves and strong winds at their side. On the race to turn two, Dover pushed past GBR05 to take 3rd place and close on FRA03 in 2nd . Johnston and West-Burrows, were unable to close the gap sufficiently and finished 3rd in a time of 35 mins 48.08 secs, ranked 20th in the world.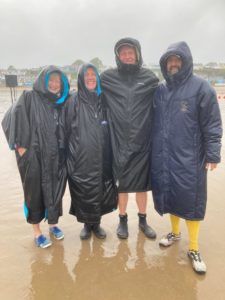 Club Captain, Tony Burrows, rowed with Jon Osborn from Eastbourne RC in the men's event. Torrential rain impacted their heat as the crew missed the starting buzzer leaving them last off the beach. Carnage at the turn with a number of boats crashing, removed any chance of an A Final qualification for Burrows. Passing two GBR and one Peruvian crew the Burrows boat moved up to 10th finishing in a time of 22 mins 54.65 secs.

Burrows B Final in the calm of day two was a faster race which saw them chasing the Irish and Japanese crews directly ahead of them, with a Greek crew on their stern. Tight finishes saw Burrows come home 13th in a time of 21 mins 40.81 secs, ranking them 30th in the world, and the highest place GB crew in their event.
Congratulations to UL Tyrian Club whose Toyko Olympian crew were GB's only winners in the Coxed Quad Sculls.