Dover Rowing Club returned to the River Itchen for the first time in over a decade to race in the Coastal Head of the River Race. Dover's Novice 4 Crew of Kevin Ulyatt, Brendon Ulyatt, Jamie Smith, Eddie Briggs coxed by Tom Stothart took on the 4.3 km race through the heart of Southampton, supported by Club Captain Tony Burrows.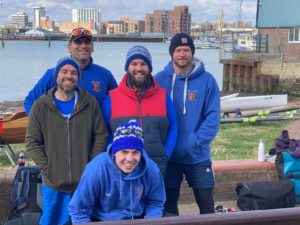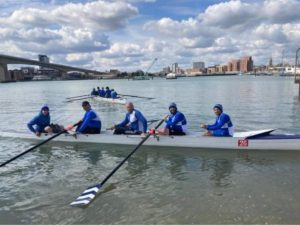 In the largest field of the first division, Dover had the position 26 slot and would be racing mostly Hants and Dorset crews familiar with the challenges of the long and snaking course. This took them under three bridges and then through marine narrows on the last third of the course. The time trial start saw Dover chasing the local Coalporters crew through the first bridge, with a faster crew closing behind them. With the river opening out after the second bridge faster crews were able to overtake as Dover pushed on. Through the Marina sections the Dover crew worked hard to maintain a good line before the sprint to the finish. Shanklin Sandown won the race in an impressive time of 19 mins 13.74 seconds, with Dover finishing just behind the Herne Bay crew in 23 mins 23.54 seconds. The crew thoroughly enjoyed the experience of competing in this longer race.
Dover Rowing Club would like to thank Herne Bay RC for providing a boat on the day.