Dover Rowing Club took the win in a tight race with Folkestone in the latest stage of their virtual race around the world; the third Indian Ocean leg from Mauritius to Cape Town over a distance of 4250 km. Dover were racing fellow CARA clubs Folkestone, Worthing, Eastbourne and Bexhill adding distance by rowing, cycling or on foot.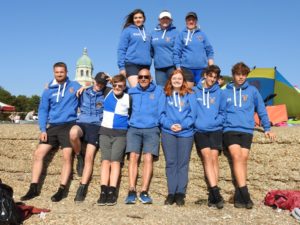 From the start of the race Folkestone and Dover jumped out from the rest of the field. This led Worthing, Eastbourne and Bexhill to merge into a 'Super Club' to try and chase them down. Folkestone steadily pulled out a lead over Dover despite the best efforts of Kevin and Brendon Ulyatt, Maria West-Burrows, Tony Burrows and Krista Davis, the clubs early leading performers. As the squads reached the coast of virtual Mozambique, and with Folkestone over 200 km ahead, the Ulyatt's put in a big day with Kevin clocking up over 60km mostly on the ergo (rowing machine). West-Burrows, Burrows and Julie Hall also dropped large multi-day totals to push Dover 6km ahead of Folkestone as the clubs closed to within 500km of the finish. The race to the end saw Dover racers move up the individual leader board as the kilometres rapidly ticked by. Contributions from Emmeline McArdle, Laine and Damian Napier and Burrows left Dover close overnight. Then early bird B Ulyatt started the morning with a 10km ergo at 4 am. Further contributions from Matt Barnett, David Newman, West-Burrows and Burrows took the club to the finish at 12:08 with Folkestone finishing later the same day at 22:43.

K Ulyatt was the top overall performer in the competition with 649 km, also topping the rowing table with 381km. B Uylatt was second overall with 432km and third in the rowing chart. The Burrows household came in fourth overall with West-Burrows adding 367km and Burrows ninth with 244km. Tom Stothart was sixth in the rowing table with 167km, Krista Davis sixth in the cycling with 202km and Eddie Briggs eighth place in the running chart. There were 100km plus contributions from Beau Everington-Nee, Bo and Heather Corby, Canelle Ulyatt, Chris Price, Chrissy Purvis, D Newman, Jen Jordan, Jo Johnston, J Hall, K Davis and Marie Cockerell.