Dover Rowing Club received four trophies from the 2019 season at the CARA presentation dinner following an excellent season for their Novice crews.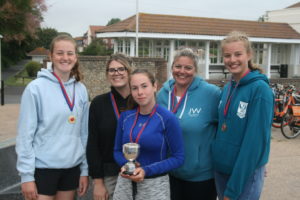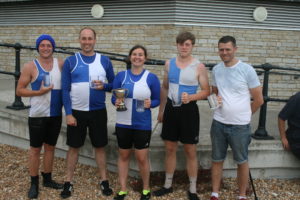 Novice Ladies Four of Ella Day, Kate Day, Brogan Day, Kate Smith with Emma Spanton who subbed for Smith coxed this season by Tony Burrows and Emma Oliver jointly won their title with wins at the start and the end of the season. Novice Men's Four of Cameron Mackintosh, Matt Barnett, Nathan Peach, Jon Cook with George Newman who also won a non status race with the squad coxed by Rebecca Stothart and Oliver were joint winners of their class.
Peach also jointly won the Novice Sculls title when his two wins were combined with one from Tom Stothart. With all four boats progressing to Junior level in the season it was pleasing to see Dover share the overall Novice Aggregate.
The trophies were picked up by Jacky Silk who is presently CARA President and Jo Johnston.