Dover Rowing Club took 3 wins in rough conditions at Folkestone Regatta. The first close race saw Dover's Junior Senior 4's crew of Jon Cook, Matt Barnett, Chris Hall, Tom Stothart coxed by Freya Emmerson going head to head with Herne Bay's crew. The race was neck and neck from the start and the crews were called as even out of the turn. With 300m to go, Dover put in a big push moving a quarter length ahead. Cook caught a crab as a big wave ripped the blade (oar) from his hand but quick reactions meant he regained control as Herne Bay moved ahead, before Dover surged back to win by a tiny margin.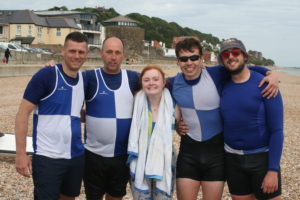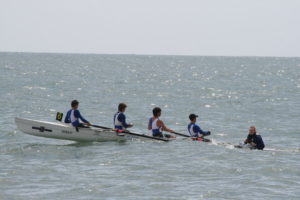 The Men's Junior 4's of Sebastian Steele, Finn Cockerell, James Hale, Jasper Mallet with Emmerson at cox were racing Dover's Eddie Briggs, Brendon Ulyatt, Kevin Ulyatt, Matt Barnett coxed by Felicity Ulyatt. Emmerson's crew dominated the race coping with the worst conditions of the day that would see the bow pair regularly being lifted out of the water only to slam down. After Emmerson's crew took the easy win, Ulyatt's crew finished a strong 4th place.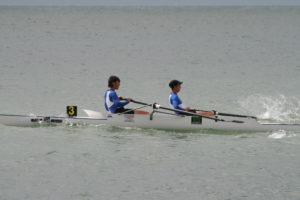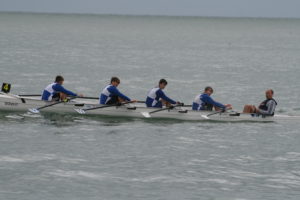 Dover's J14 crew of Josh Grassby, Ben Fagg, Bo Corby, Beau Everington-Nee coxed by F Ulyatt had a strong lead by the half way point and were able to hold off a late challenge to take another win. The same crew raced in the older J16 category with Barnett coxing. The young crew rowed well to come home 3rd.
Nick Bailey and Andrew Bryant were in another close race as they joined two Folkestone rowers in the Masters 50 class where they raced Herne Bay in a tight race. They would lose out at the line by half a canvas.
The Men's Junior Pairs crew Hale and Mallet battled through the field turning 3rd before coming through to 2nd at the line. Mallet would also take 2nd in his first Novice Sculls race with Sam Pile coming in 3rd.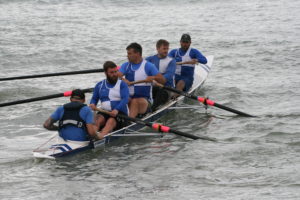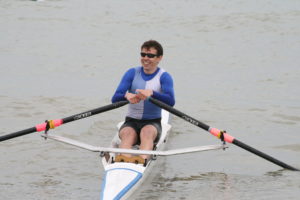 Sisters Charlotte Cox and Rachel Bailey made their return to racing in the Senior Pairs, after a long layoff. A solid start saw the pair in the mix to start with before dropping to 3rd, holding Folkestone off at the line.
Men's Junior Sculls saw Stothart racing against Hall. At the turns it was Hall, 2nd, over Stothart, 3rd, but positions would be reversed by a late surge from Stothart at the line. Hall and Stothart joined forces for the Men's Senior pairs where they finished 5th.
Ladies Novice 4's had 2 Dover crews Marie Cockerell, Kelly Jackson, Heather Corby, Emmeline McArdle, coxed by Emmerson racing Canelle Ulyatt, Emma Sawkins, Megan Barter, Nicky Leggett coxed by Tony Burrows. Emmerson's crew finished 3rd and Burrows in 5th. Cockerell, H Corby, E McArdle were joined by Maria West-Burrows coxed by Barter to come 4th in the Woman's veteran 40. Cockerell, H Corby, West-Burrows, Emmerson coxed by Stothart were 5th in the Ladies Junior 4's.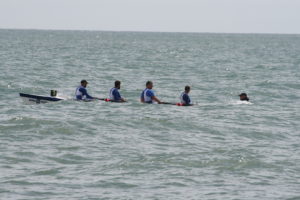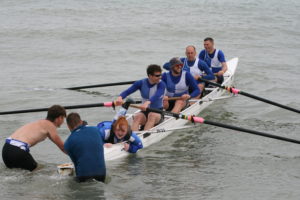 The Men's Novice 4's saw K Ulyatt, Eddie Briggs, Matt McArdle, B Ulyatt coxed by Burrows take a battling 4th place. The Veterans 40 plus saw Leggett, Vic Evans, N Bailey, Bryant coxed by Rupert Evans come home 3rd with Cook, Briggs, West-Burrows, K Ulyatt coxed by Emmerson finish 4th.