Dover Rowing Club had a great day at their home regatta taking 5 wins, securing the Junior Aggregate and only missing the Grand Aggregate by a single point.
The first win of the day came from the J14 crew of Josh Grassby, Bo Corby, Ben Fagg, Beau Everington-Nee coxed by Felicity Ulyatt, who pulled clear of their rivals at the midpoint of their race pushing their lead to 2 lengths at the line. The same crew competed against older crews in the J16 race coming in 3rd coxed by Matt Barnett.
The Men's Novice Fours saw 3 Dover crews compete. Oli, Jacob and Harley Scrivener and Sam Pile coxed by Paul Scrivener stormed off the line, quickly taking the lead and powering through the waves. First at the turns the Scrivener crew took the win by 3 lengths. Kevin Ulyatt, Eddie Briggs, Jamie Smith, Brendon Ulyatt coxed by F Ulyatt came home in 6th with Max Jerden, Damian Napier, Chris Wong, Matt McArdle coxed by Tony Burrows 8th.
The Men's Junior Fours saw two Dover crews. Sebastian Steele, Finn Cockerell, Jasper Mallet, James Hale coxed by Freya Emmerson, racing Jon Cook, B Ulyatt, K Ulyatt, M Barnett coxed by Burrows. Emmerson won the cox of the day for piloting her crew around the buoy turn as the young crew charged to win. Burrows crew was 3rd at the turn but raced back side by side with Shoreham breaking their opponents just before the line to take 2nd. Hale and Mallet would also take a dominant win in the Men's Junior Pair's race.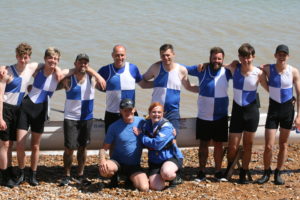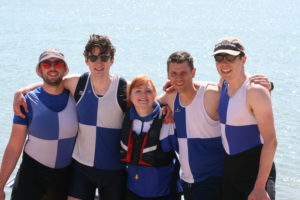 Three Dover crews raced in the Men's Junior Senior 4's Ben Gomm, Chris Hall, Tom Stothart, J Cook coxed by Emmerson would battle the Steele, Cockerell, Mallet, Hale crew coxed by Jo Johnston. The Emmerson coxed crew took the win with Johnston's crew taking 2nd. An all Scrivener crew of Paul, Neil, Harley, Jacob coxed by Oli came home 4th.
In the 40+ race P Scrivener, Vic Evans, Nick Bailey, Andrew Bryant coxed by Rupert Evans took second place. Third was taken by Cook, Briggs, Smith, Barnett coxed by F Ulyatt, and Wong, Napier, K Ulyatt, Maria West-Burrows coxed by Emmerson came 4th..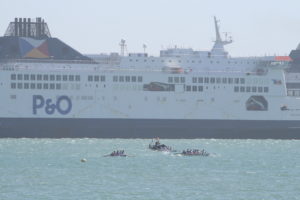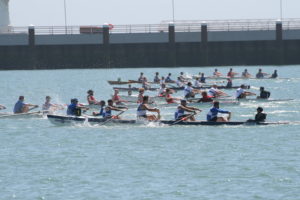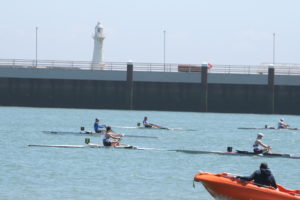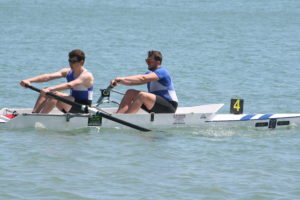 The Men's Junior Sculls race saw Hall fight for the lead on the return leg with Stothart chasing him hard. Hall would finish 2nd with Stothart just behind in 3rd. The two would combine for 4th in the Men Senior Pairs.
Ladies Junior Fours Emily Harvey, Emmerson, West-Burrows, Ella Day coxed by Johnston came 4th, Emmaline McArdle, Jen McKie, Marie Cockerell, Megan Barter coxed by Stothart in 6th and Canelle Ulyatt, Emma Sawkins, Holly Hannington, Jodie coxed by Paul Scrivener 7th. Ladies Novice Fours C Ulyatt, Jodie, Hannington, Nicki Leggett coxed by F Ulyatt 5th and McKie, Barter, Emma Sawkins, Harvey coxed by Burrows were 6th. Sam Pile was 3rd in the Men's Novice Sculls. Johnston was 3rd and Heather Corby 4th in the Ladies Sculls. In the open Mixed Fours Cook, M Cockerell, West-Burrows, Eddie Briggs coxed by Johnston came 4th. Senior Men's Fours of Bailey, Hall, Stothart, Bryant coxed by Emmerson were 5th.
Dover Rowing Club would like to thank the following sponsors:
A & S Self Storage Ltd, Apple Oaks Carpentry, Arriba Pets Ltd, A.T. Garage Services, Mr N.J. Bailey, Blakes of Dover, Mr N.J. Cooke, Dover Express, Dover Harbour Board, Dover Sea Sports Centre, East Kent Mercury, Jane Forryan, Friends of Dover Rowing Club, Good i Buys, Mr K.C. Goodwin, Mrs J. Hall, Health & Safety South East Ltd, The Hoptimist Taproom & Bar, Juicy Media, Jason Cunningham, The Lord of Kincavel, Kent Stonemason, K.R. Gavin Removals, Little Puffin Vintage, Mariner III – Malcolm, Matt Mcardle photography, Mel's L's Driving School, Mick Hale, Mr D. Newman, The Ratzkins, Riverside Catering Services, Salty Sea Yoga, Samphire Cargo, Sharp & Enright Ships Chandlers, Shaun Macrae Roche – Roche Electrical, Stuart Scott – High pressure services – vapour blasting, Mrs M. Squibb, Steve's Removals, Mandy Swinerd – Sports Massage Therapy, Canelle & Kevin Ulyatt, White Cliffs Amateur Boxing Club