Dover Rowing Club had a successful regatta at Deal. Dover's first win came in the J16 Men's Quad Sculls which featured two crews. Josh Grassby, Bo Corby, Ben Fagg, Beau Everington-Nee coxed by Jasper Mallet raced against club mates Oliver White, Henry Cox, Sonny Hart, Artie Everington-Nee coxed by Freya Emmerson. Mallet's crew got the better start on the outside of the course and were able to push out to a lead gradually moving ahead of the field, taking the win with a length at the finish. Emmerson's's crew of younger rowers worked hard through the race coming home fifth.
Novice Men's Sculls had Cameron Mackintosh seeking his first win after coming in second previously. A good start had Mackintosh in the leading group through the first turn starting to gain separation through the second turn. He was able to gain on the chasing scullers and secured his first novice win.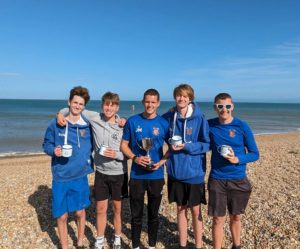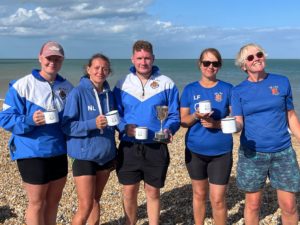 The Novice Ladies crew have been steadily improving this season coming second at Herne Bay. The crew of Janice Bradford, Lee-Anne Finnis, Holly Hannington, Nikki Leggatt coxed by Will Coleman moved well off the start and were pushing for the lead. Through the turns they established a lead and continued to work well through to the second buoy, which they exited in first place. A strong charge to the line secured the victory. The two novice victories also secured the overall Novice Aggregate Trophy.
The mixed J14 Quad Sculls had White, Cox, Ella Cook, A Everington-Nee coxed by Freya Emmerson chasing Herne Bay down the course coming home in second.
The Men's Junior-Senior crew of Mackintosh, Coleman, Sebastian Steele, Mallet coxed by Emmerson had a good start slotting into second place but were unable to close down the leading crew through the first turn. The crew would secure their second place at the line.
Women's Masters 40+ Four featuring Bradford, Finnis, Natalie Harvey King, Leggatt coxed by Emmerson had a good race in this new event. A slower start saw the crew chase the field as they headed for the turns. Turning in fourth the crew pushed hard but were unable to improve their position at the line.
Senior Men's crew of Jon Cook, Nick Bailey, Mackintosh, Mallet with Emmerson at cox had a good race coming home with points in fourth place.
Junior Sculls saw Mallet came home in fifth. Bradford, Leggatt, Hannington, Emmerson coxed by Coleman finished 6th in the Junior Women's Fours.