Henley Royal Regatta saw Dover Rowing Club represented by Chris Hall and Max Arkell. Henley is the largest annual rowing event in the UK, with crews from all over the world competing.
Chris Hall, a long term DRC member, had the misfortune when captaining Southampton University in 2021, of qualifying but being unable to compete due to injury. Hall has joined a small Dover cohort this season at Vesta Rowing Club and qualified for Henley as part of Vesta B M8 in the Thames Challenge Club, rowing in the four seat.
Vesta B were drawn against Cambridge 99. The start was the key to 2112m race with Cambridge getting the better, by Fawley, Vesta were down by a little over a length. With both crews pushing hard Vesta were closing at the enclosures where they were cheered on by Dover's travelling support Tom Stothart, Jasper Mallet and David Newman. Hall's crew gained an overlap and closed hard on Cambridge but were short at the line.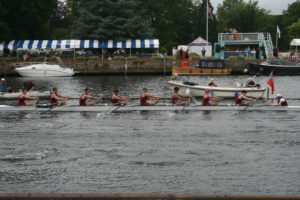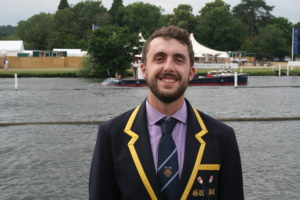 Max Arkell, who was part of the 2022 Dover Squad, was competing in the coxed four Brittania Cup against Royal Chester. Vesta had the best of the start and were leading through Fawley, pushing for a length lead. As the two crews hit the enclosures the Chester crew were pushing and Arkell's boat was under pressure, by Stewards Chester had moved ahead taking a tough win.