Dover Rowing Club were in action at their home and Folkestone Regattas at the weekend. There was an outstanding performance from club veterans and occasional racers Chrissy Purvis and Jen Jordan in the Woman's Junior Pair. As a late entry they were on the outside of the course. A strong start saw Purvis and Jordan battling for the lead despite being disrupted by an opponent's wayward steering. Second to Herne Bay at the turn, Dover's pair moved through them and were neck and neck with eventual winners Southsea, coming home second.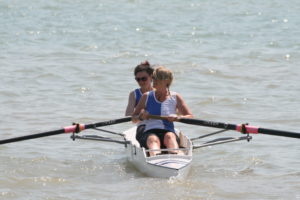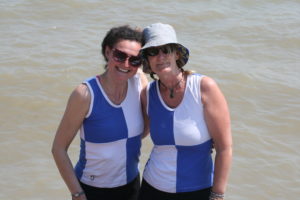 The Men's Novice Sculls saw a battling performance from Cameron Mackintosh. From the start Mackintosh was in a straight battle with Folkestone down the course as they chased Shoreham. Second out of the turn, the Dover sculler solidified his place but ran out of water as he tried to catch the first placed sculler. Mackintosh was fifth at Folkestone regatta.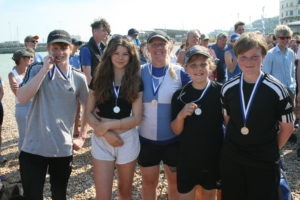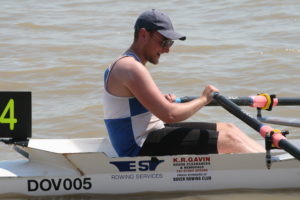 The J14 Quad Sculls crew of Oliver White, Ella Cook, Sonny Hart, Artie Everington-Nee coxed by Maria West-Burrows had a good start. Alternating positions each stroke with Shoreham, Dover took second place at the line. At Folkestone, Henry Cox, White, Sara Scrivens, A Everington-Nee coxed by West-Burrows came home third. Cook would also finish third with Shoreham's J16 Ladies Quad Sculls.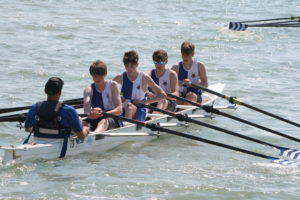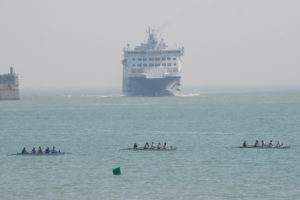 In the J16 Quad Sculls Dover had 2 crews. Josh Grassby, Ben Fagg, Bo Corby, Beau Everington-Nee coxed by Matt Barnett competed against Hart, Tom Gold, White, A Everington-Nee coxed by West-Burrows. Barnett's crew found themselves in a tight fight with Herne Bay. The neck and neck battle was decided by half a canvas, with Dover in Second. Dover;s second crew came home fifth. At Folkestone Grassby, Fagg, Corby, Everington-Nee were third and Henry Cox, White, Gold, A Everington-Nee came home sixth.
The Junior Senior Men's Four had Mackintosh, Will Coleman, James Hale, Jasper Mallet coxed by Freya Emmerson in a tight three way race on the outward leg. Southsea led at the turn with Dover and Herne Bay behind. The charge home saw Dover trying to take the lead whilst fending off Herne Bay, finally taking second place. At Folkestone Dover finished fourth.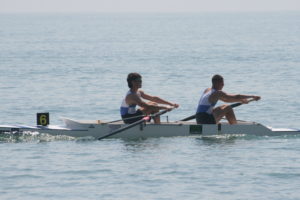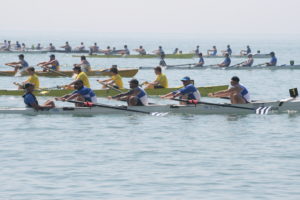 The Open Masters Fours 40+ featuring Matt Barnett, Zara White, Mark Weight, Janice Bradford coxed by Jo Johnston struggled to compete with the leading two boats as they come home in third place. At Folkestone Janice Bradford, Nikki Leggatt, West-Burrows, Barnett coxed by Hale were fourth. Nick Bailey was third in a composite.
The Men's Junior Four Mike Simmons, Barnett, Kevin Ulyatt, Brendon Ulyatt coxed by Jo Johnson finished fourth. Ladies Junior Four of Marie Cockerell, Emmerline McArdle, West-Burrows, Saffron Walmsley-Preece coxed by Tony Burrows also finished fourth. At Folkestone Emmerson, Leggatt, Holly Hannington, Emily Harvey coxed by Coleman were fourth.
Men's Senior Fours had Mackintosh, Coleman, Hale, Mallet coxed by Emmerson came home fourth.
Novice Men's Four Simmons, Weight, K Ulyatt, B Ulyatt coxed by Burrows worked hard to get fifth in a large field with Laine Napier, Damon Napier, Chris Wong, Duncan Taylor coxed by Emmerson coming home seventh. Simmons, Weight, K Ulyatt, B Ulyatt coxed by Burrows finished eighth at Folkestone.
Jasper Mallet came fifth in the Men's Junior Sculls and would improve to fourth in the same event at Folkestone.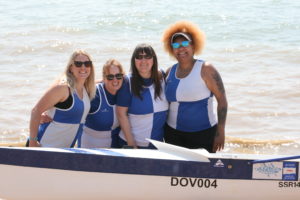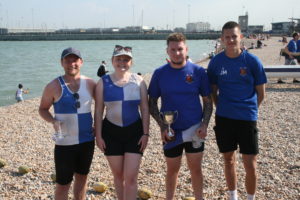 Novice Ladies, White, Kaz Morrison, Amanda Punton and Cannelle Ulyatt coxed by Burrows finished fifth. Lee-Anne Finnis finished third in a Worthing crew and Izzy Baldwin took second with Eastbourne. At Folkestone White, Bradford C Ulyatt, Lily Stafford-Edwards also finished fifth.
Masters 50 + Leggatt, Morrison, West-Burrows, Taylor coxed by Johnston came home fifth, whilst Nick Bailey finished fourth in a composite.
Men's Senior Pairs Hale and Mallet were seventh with Mackintosh and Colemen eighth at Dover but both improved at Folkestone finishing fourth and sixth respectively. The crews would shuffle seats in the Men's Double Sculls race, Coleman and Mallet were fifth and Mackintosh and Hale sixth.
In the Open Mixed Four Dover had 3 crews Mackintosh, Leggatt, Lee-Ann Finnis, Mallet coxed by Hale were sixth, Emmerson, Harvey, Bailey, Colman, coxed Hannington were eighth and K Ulyatt, B Ulyatt, West-Burrows, Barnett cox Johnston were ninth.
Awards were presented by Gary Smith-Weston MD of Samphire Cargo and Shaun Roche MD of Roche Electricals.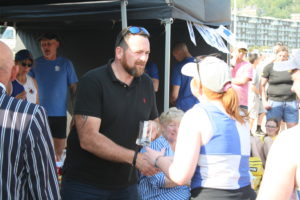 DRC would like to thank our 2023 Sponsors: Hellmann Beverage Logistics (Dover), Samphire Cargo Ltd (Dover), A&S Self Storage, Julie Wright & Friends of DRC, The Ratzkins, Apple Oaks Carpentry and Plastering, Arriba Pets Ltd, Baileys Opticians, Black & White Financial Planning, Blake's of Dover, Cats Painting and Decorating Services, Chloe-Jo Charters, Complete Cleaning Services Kent, Mr N.J. Cooke, Dover Express, Dover Harbour Board, Dover Water Sports Centre, Dover Sports Therapy and Fitness Centre – Simon Dugdale, The Duchess, Steve Duncan, East Kent Mercury, Gardeners Cottage, K. R. Gavin Removals, Good i Buys Emporium & Salvage, Mr K.C. Goodwin, Mick Hale, Mrs J Hall, Health & Safety South East Ltd, High Pressure Services, The Hoptimist Taproom & Bar, Lavender& Rosebuds Preloved & Handmade, Juicy Media, Kent Stonemason, The Lord of Kincavel, Mr R. Kirk, Kraken Grappling Academy, Mariner III – Malcolm, Mr D Newman, No Pain No Gain Customs Tattoos, Roche Electrical, N.T. Rix, Salty Sea Yoga, Sharp & Enright Ships Chandlers, Smith Woolley Chartered Surveyors, Jack & Trudy Snape, The Staggered Inn, Steve Woods, Steve's Removals, Mrs M. Squibb, Kevin & Canelle Ulyatt.