Tough conditions met a smaller Dover squad at Shoreham regatta, leading to damage to one sculling boat.

In the Men's Junior / Senior race Cameron Mackintosh, Will Coleman, Jasper Mallet, Sebastian Steele coxed by Freya Emmerson took on the conditions. A strong start saw the crew gain the advantage from the line. Working well together, the crew executed a good turn coming out a couple of lengths ahead of their pursuers. At the line Dover took the win with 3 lengths.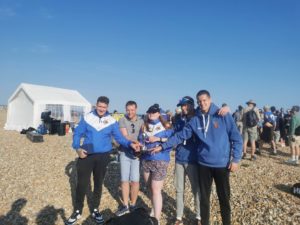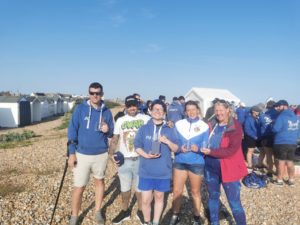 In the Veteran 40 race Kevin Ulyatt, Jon Cook, Maria West-Burrows, Nikki Leggatt were coxed by Felicity Ulyatt. The race quickly turned into a two horse race with Eastbourne leading out of the turn. Despite pushing on the return leg Dover came home in second.

The Senior Men's 4 had Jon Cook, Coleman, Mackintosh, Mallet coxed by Emmerson take on the top flight men's crews. With a Deal crew fastest off the line Dover were fighting with the second Deal crew. The two crews duelled it out over the outward leg and through the turns. Despite pushing hard Dover's crew came home in 3rd.

The J14 race featured Henry Cox, Henry Fraser (Worthing RC), Ella Cook, Sara Scrivens coxed by Maria West-Burrows. The young crew, which had Ella Cook in her first race, did well off the line and were racing hard down the 1km course in a tight race. They were holding 3rd in the last 250m before a problem at the line dropped them to 4th.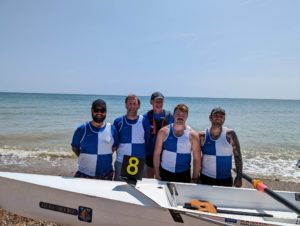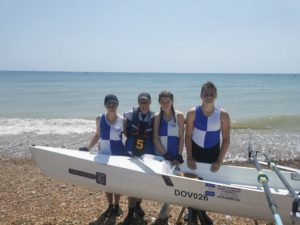 In the Junior Ladies 4 Dover had Emmerson, Leggatt, Holly Hannington, Emily Harvey coxed by Coleman competing. The crew found the conditions tough going and, by the turn they were fighting for points. As the finish line approached, they fell back to 6th.

Novice Ladies 4 were represented by T Cornell (Eastbourne) , Lee-Ann Finnis, Izzy Balwin, Cannelle Ulyatt coxed by Tony Burrows. The composite crew took a few moments to get into their groove. Coming through the turn they were in 6th place, a position they held through to the finish line.

Mike Simmons, Brendon Ulyatt, Kevin Ulyatt, Duncan Taylor coxed by Tony Burrows raced in the Novice Men's 4. In one of the biggest fields of the day the crew found themselves fighting for points. In contention at the turn the Novices were unable to close down the crews in front coming home in 7th.

Neither Mallet or Mackintosh where able to compete in their sculls races to damaged to their boat.