It was a fantastic weekend for Dover Rowing club with 6 wins across Dover and Folkestone's regattas. This was Dover's largest weekend haul for several years. The J14 crew of Sebastian Steele, James Hale, Jasper Mallet, George Burrows coxed by Tony Burrows were in their first race in a straight sprint on Saturday. The youngsters pulled into an early lead which they maintained to the finish. At Folkestone over a longer course the crew completed well coming home in 3rd place.
Men's Novice Fours, at Dover, featuring Cameron Mackintosh, Matt Barnett, Nathan Peach, John Cook coxed by Rebecca Stothart eased clear of the pack on the outward leg. A good turn allowed them to push forward and extend their lead securing the crew's first win. At Folkestone George Newman switched in for Cook. A reduced field saw Dover's crew win comfortably but prevented Dover's counting towards promotion.
A frustrating Men's Junior Pairs saw Christopher Hall and Tom Stothart's race end in Dover, when a rival crew holed their boat leading to a restart. The Dover boys were unable to compete due to the lack of a boat. Refocused the boys were determined to demonstrate their abilities on Sunday. In an exciting race the boys were neck and neck with Herne Bay through the whole course but held off their opponents to secure the win.
The Men's Junior Sculls race saw Hall, Peach and Chris Price compete at Dover. A good race saw several boats in contention at the turns including Hall and Peach. A better turn saw Hall in a three way battle with Bexhill and Southsea with Hall narrowly missing 2nd at the line. Peach came home 4th and Price 9th. The heavier conditions at Folkestone saw Price fall in the heats whilst Hall and Peach progressed. In the final Hall entered the turns in 5th but exited in 1st followed by Peach. Hall extended his lead managing to hold off Herne Bay's late charge, Peach in 3rd was left to rue his less direct line on the return leg.
The Men's Novice Sculls saw T. Stothart win his heat at Dover with Paul Scrivener, Newman and Macintosh missing out. T. Stothart was narrowly leading the final as he entered the turns but missed his buoy forcing him to row up to the next turn to avoid disqualification. Clearing the turn he had dropped to 5th. Although he put in a storming performance row through three opponents he ran out of water at the line finishing 2nd. At Folkestone T. Stothart again won his heat with Macintosh and Newman again missing out on the final. A strong start saw T. Stothart pull away and he was leading at the turn. He was able to hold off some late pressure to secure his second Novice win and promotion to Junior status.
Dover's Ladies Junior Fours achieved their preseason target of a top two finish after a history of 3rd and 4th places. The crew of Jen Jordan, Chrissy Purvis, Maria West-Burrows, Kate Smith coxed by Jo Johnston were quickly in a battle for 2nd as the Worthing crew pulled clear of the field. A good turn and a determined push saw them hold off Bexhill to secure 2nd place at Dover. At Folkestone the crew could not repeat the performance dropping to 4th place on the longer course.
J16 Ladies Quad Sculls of Chantel Mayes, Ella Day, Emma Oliver, SJ Bamfield coxed by Johnston secured 2nd place on home water and 3rd in Folkestone. J16 Men's Quad Sculls of Mallet, Hale, Peach, Newman coxed by Oliver finished in 3rd place at both regattas.
In a patched up boat Purvis and Jordan produced an excellent 3rd place in the Ladies Junior Pairs at Dover.
Ladies Novice Fours saw E. Day, Brogan Day, Kate Day and Smith coxed by Burrows came home 4th at Dover and Folkestone. Hannah Power, Rosie Thorp, Izzy Godden, R. Stothart coxed by P Scrivener took 6th at Dover. Mayes, Claire Beaumont, Oliver, Bamfield coxed by Johnston came 7th at Dover. At Folkestone Thorp replaced Beaumont with the crew finishing 5th.
In Ladies Double Sculls Johnston and R. Stothart came 4th, Smith and E. Day 7th and West-Burrows and Thorp 8th at Dover. The following day Johnston and Thorp came 5th and West-Burrows and R. Stothart 6th.
Johnston competed in the Ladies Single Scull on both days coming 4th and 6th respectively.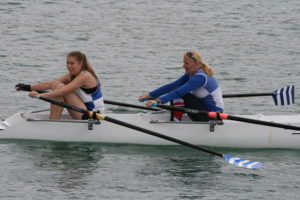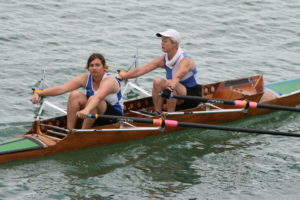 The Masters Fours 40+ of P. Scrivener, Barnett, Nick Bailey, Neil Scrivener coxed by Hale came 5th at Dover. Bailey also rowed in a composite crew in the Masters 50+ coxed by Hale which came 4th at Folkestone.
An all Scrivener family crew of Jacob, Toby, Ollie, Tim coxed by Paul took 5th place at Dover in the Men's Junior Four. A second mostly Scrivener crew of Paul, Neil, Tim, C. Mackintosh coxed by Ollie came in 6th in the Junior Senior men's Fours.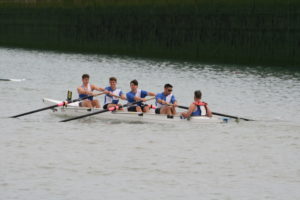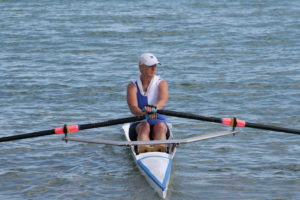 Johnston and West-Burrows competed in the Senior Ladies Pairs finishing 7th and 8th at the two Regattas.
Two non-CARA league races were held in Dover for Ladies and Men's Quad Sculls. The Ladies crew of R. Stothart, E. Day, Johnston, West-Burrows coxed by Oliver came home second and the Men's squad of Newman, Mackintosh, Peach, Cook coxed by Hale were 5th.
Dover Rowing Club wish to thank the following organisations and individuals:
A&S Self Storage Ltd, Mr N.J. Bailey, Barney, Best Godmother Ever, The Boars Head, B.S.J. Roofing, Burgashell, Mr N.J. Cooke, Mr W Darlington, Designed Interiors, Dover Express, Dover Harbour Board, Dover Lifeguards, Dover Sea Sports Centre, Dover Water Sports Centre, East Kent Mercury, Emma Dunne Ltd, Glow Galaxy Art, Health and Safety South East Ltd, K.R. Gavin Removals, Mrs J. Hall, Kent Stonemason, Mariner III – Malcolm, Mr D. Newman, Mr & Mrs Oliver, Parkers Design and Print, Serena's Events, Sharp & Enright Ships Chandlers, Mrs M. Squibb, Mr K. Thorp, Mr C. Townley.