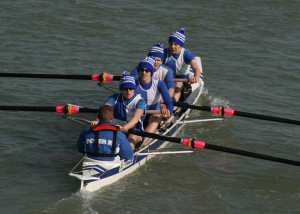 Dover Rowing Club's Cameron Mackintosh, Austin Mills, Chris Hall and Tom Stothart will be aiming to complete 334,700 metres which is 208 miles (roughly the distance of London to Manchester) in a 24 hour row from 5pm on Friday 11th until 5pm Saturday 12th November. They will be rowing on a Concept 2 rowing machine and are not allowed to let the flywheel stop spinning at any point.
The Dover Grammar School Boys are donating 2/3 of the money they raise to Cancer Research UK as this charity means a lot to all members of the crew; especially as one of the young rowers has recently lost his father to the illness. The other third will be donated to DRC who are kindly letting them use their facility to complete this challenge. DRC is the oldest rowing club on the South Coast and is a big part of their lives. Donations can be made via JustGiving.com searching Dover Rowing or by using the following web address https://www.justgiving.com/crowdfunding/dover-rowingclub
The sixth formers are aiming to raise £1000 and are very thankful for any donations. The boys welcome you to come down and support them at Dover Rowing Club situated in Dover Sea Sport Centre on the beach.