Dover Rowing Club preseason got off to a winning start as Dover rowers took three wins at the Adur Head, Shoreham. The event is run as a time trial with boats being released at regular intervals to race the 3.5 km course.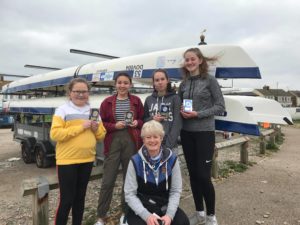 There was a maiden win for the Ladies J16 age group crew of Sarah Jane Bamfield, Emma Oliver, Emma Spanton, Chantal Mayes coxed by Jo Johnston who were the first crew to start in their event. Rowing with the current, the crew headed off for the Railway Bridge. the first of three bridges to negotiate on the course. By the Norfolk Road Bridge Dover had gained time on the pursuing crews, which they continued to extend through the footbridge, to carry them home with a 44 sec winning margin, in a time of 16 mins 10 sec.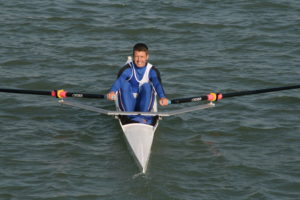 Chris Price competed in the Junior Men's sculls event where he started as the second boat in the event. He set off in pursuit of the Bexhill sculler, steadily closing on his opponent. By the Norfolk Road Bridge, Price had closed down the lead boat before passing him by the footbridge. He eased out to finish with an impressive winning margin of 1 min 45 sec, in a time of 14 min 31 sec.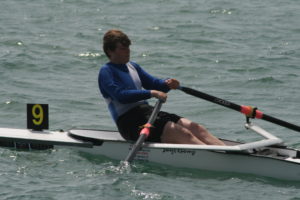 Nathan Peach also had his maiden win in a composite Folkestone / Dover Men's Novice Four boat. Rowing against the tide the crew, rowing together for the first time, delivered an impressive win in 17 min 30 sec nearly 2 min up on their nearest opponents. Peach also rowed in the Novice Sculls, among a strong field, coming home 7th, in time of 15 min 1 sec.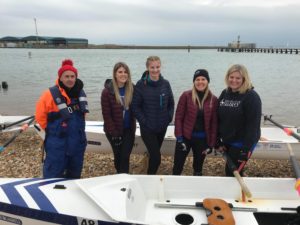 Dover had 2 crews in the Ladies Novice 4's event. Dover A crew Hannah Powers, Rosie Thorp, Rebecca Stothart, Jade Jordon coxed by Tony Burrows and Dover B, the 'Day Family crew' of Brogan Day, Ella Day, Denise Day, Kate Day coxed by Paul Scrivener. Dover A were first on the course and tried to put some distance between their rivals, the Day crew were unleashed to pursue their teammates a minute later. Both crews were passed during the middle stages by faster opponents. It was a close run finish on times between the local crew and Dover B who were separated by 3 seconds coming home 3rd in a time of 16 min 35 sec with Dover A coming home 4th in a time of 16 min 59 secs.
Jo Johnston, competing in the Ladies Sculls event, started in pursuit of the younger Eastbourne Sculler. Pushing to close the gap between the Rail Bridge and the Norfolk Road Bridge Johnston tried put pressure on the leading Sculler, but her opponent proved too strong leading her through the finishing line. Johnston secured second place in a time of 20 min 41 sec. Captain Tony Burrows, competing for Eastbourne, finished 2nd in the Veteran 50 race.